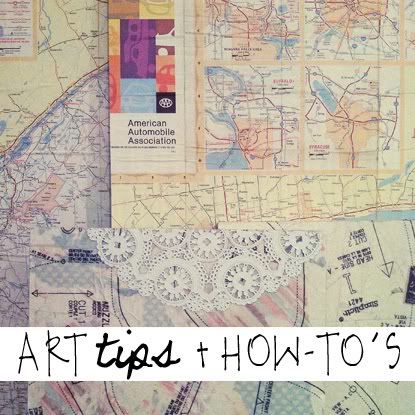 For me, the hardest part of an art project is getting started. (Can I get an "amen!" from all the perfectionists out there?) When doing collage art, I get the most stuck at the beginning, figuring out where to start with the background. After all, the background is what an entire art piece rests on - and while it can't be too plain and uninteresting, it also can't be too busy that the text and images layered on top aren't readable. So how do you choose background papers for a collage? For me, the real answer is "I just choose what feels good!". Which is a supremely unhelpful answer, I know. But if I analyze what makes me feel good, here's what I look for when starting a collage: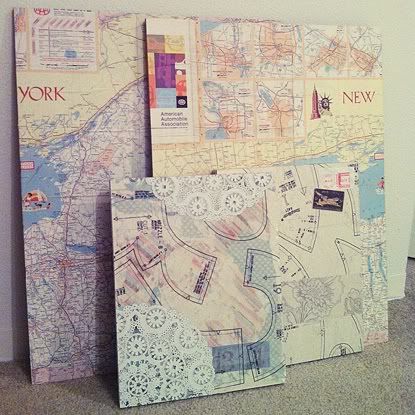 Look for backgrounds that will allow you highlight the focus of your piece. For me, the quote is always the focus. If the letters are going to get lost against the background, then the piece as whole won't work.
Look for interesting textures, patterns, and colors. Visual interest is important! I love the richly layered look of collage art, and finding neat background materials that jive together in a pleasing way pretty much rocks my world.
Look in unexpected places for background images. I found this vintage map of New York in my old car that was passed down from my grandma - it had been in the glove box for years. Old dressmaker patterns have beautiful graphic designs, and are transparent enough to allow layers to show through. Vintage books have beautiful illustrations and gorgeous pages of text. Wallpaper samples can be bursting with pattern and texture, ranging from bold to subtle. A printed paper placemat from a kitchsy diner has retro appeal. Keep your eyes open - you really can find great art supplies in places you'd never expect.
One last thought when starting a piece of art...
Trust your gut. Trust that you know what you like. Trust that you know what feels good to you. Trust in the experiment. Trust in your awesome creativity.
To see more of my art (finshed art! Not just backgrounds!) you can visit my
Etsy shop
.
Happy Monday!
PS. If you're selling your collage art, choose images that won't get you into trouble! Your own photography, messy painted textures, layered grocery receipts, and vintage book pages all make beautiful backgrounds. If you are using someone else's images (such as scrapbook paper), make sure you're altering it to make it yours. (More on the topic of copyright and fair use in collage art later!)